JANUARY 2023
showroom & shop
To meet the growing demand, we opened an exhibition space last December, right next to our workshop in Mezos in the heart of Lanfifornia.
Last year, many customers were interested in this showroom, and we had visitors every week who wanted to see our models before deciding to buy. More than 95% of our visitors placed their orders on the spot, right after the visit.
We invite you to come and see us, test each of our models, compare the different tray designs and decide which color will suit your taste.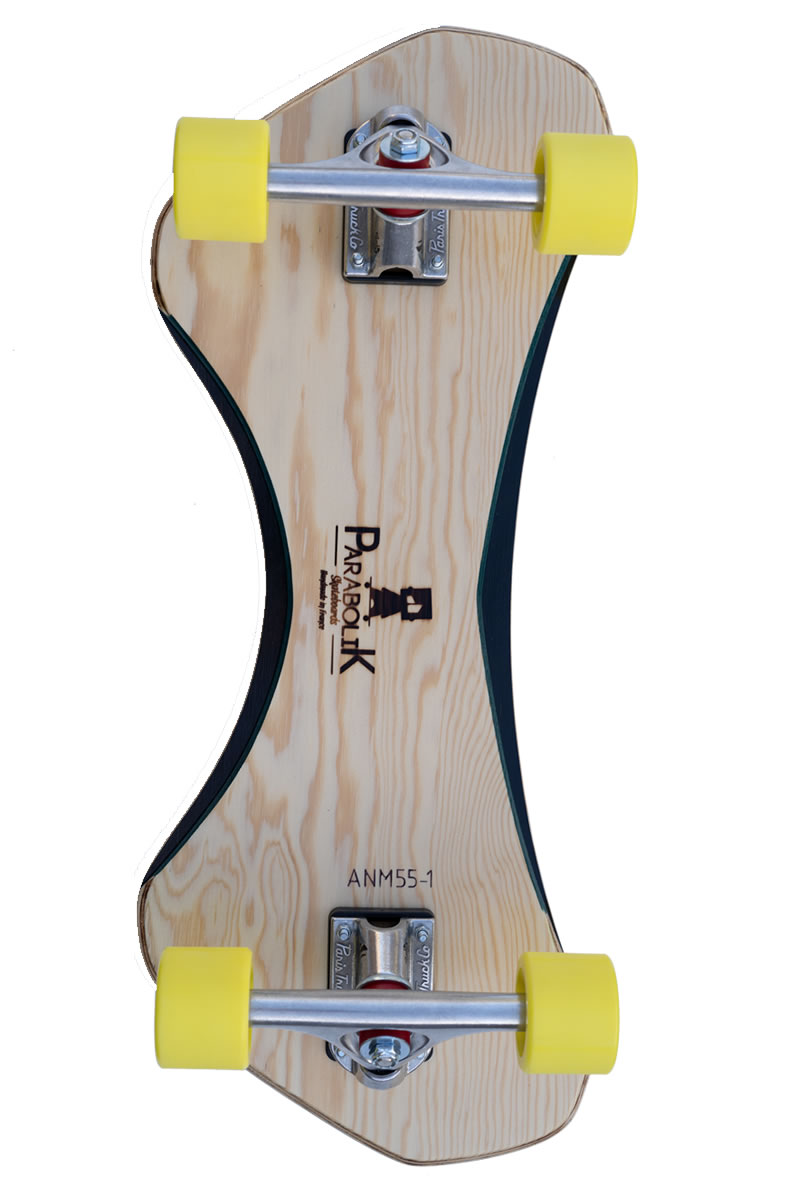 ANATOMIK: THE 2023 SURPRISE!

In 2023, Parabolik is going back to its roots, stripping down its skates and throwing out all the conventions to bring you this model.

Created to introduce the twist system of the Parabolik skates, here is a skate with a hyper intuitive behavior for a ride with unique sensations.


+ 12 MODELS IN THE CATALOG
CLICK ON THE PHOTO FOR MORE DETAILS
TO KNOW
A REVOLUTIONARY INNOVATION: THE
PARABOLIK TORSION SYSTEM
NÉ AU CŒUR DE LA FORÊT LANDAISE, PARABOLIK SKATEBOARDS CASSE LES CODES DU SKATE TRADITIONNEL ET OFFRE UNE NOUVELLE OPPORTUNITÉ DE GLISSE.
AVEC SON LOOK ORIGINAL ET EFFICACE, CE SKATE,
DÉDIÉ A L'ORIGINE A L'ENTRAÎNEMENT ESTIVAL DES SNOWBOARDERS

, OFFRE DE NOUVELLES SENSATIONS ET DE NOUVELLES PERFORMANCES: CONTRÔLE PARFAIT DE SA TRAJECTOIRE ET MOUVEMENTS PLUS NATURELS POUR

UN RIDE BEAUCOUP PLUS INTUITIF.
Points de ventes Partenaires en France en 2023
Riders Parabolik en France et en Europe
Modéles déclinés en plusieurs tailles et variations
BE A FRIEND OF
AMIS DE PARABOLIK 
JUST SEND YOUR NAME AND EMAIL!

As a friend, get immediate access to the best of Parabolik!
You'll never miss a thing as you'll receive a notification every time a new model is launched, and most importantly, you'll get a sneak preview of great deals, exceptional pre-order prices, and invitations to Parabolik events, reserved for friends and fans only!