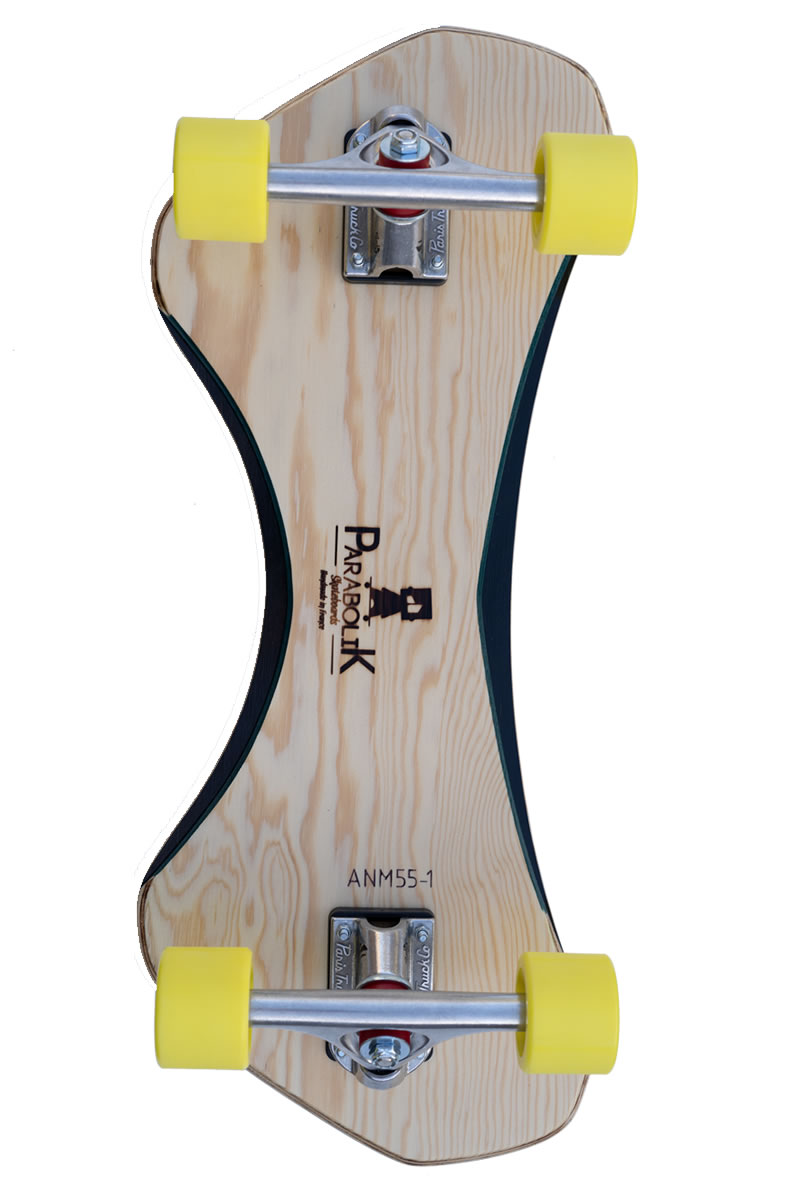 ANATOMIK: THE 2023 SURPRISE!

In 2023, Parabolik is going back to its roots, stripping down its skates and throwing out all the conventions to bring you this model.

Created to introduce the twist system of the Parabolik skates, here is a skate with a hyper intuitive behavior for a ride with unique sensations.


21 July 2023
Aujourd'hui, vous disposez d'une gamme diversifiée de modèles de skateboard, conçus pour répondre à tous les styles de ride et à toutes les préférences. Chez ParaboliK,
[…]
17 July 2023
Alors déjà, Mézos, c'est un peu le bout du monde, un petit village landais où le temps semble s'être arrêté. Mais ne vous fiez pas aux
[…]
13 July 2023
Salut les riders intrépides et les fans inconditionnels de Parabolik ! Vous vous demandez ce qui se trame dans notre petit monde déjanté ? Eh bien,
[…]
9 MODELES AU CATALOGUE
CLICK ON THE PHOTO FOR MORE DETAILS
Le bijou de la collection, 93cm de pur bonheur, élaboré pour de nouvelles performances et de nouvelles sensations, il vous donnera l'impression de rider sur un tapis volant.

400

€
TO KNOW
A REVOLUTIONARY INNOVATION: THE
PARABOLIK TORSION SYSTEM
BORN IN THE HEART OF THE LANDES FOREST, PARABOLIK SKATEBOARDS BREAKS WITH THE CODES OF TRADITIONAL SKATEBOARDING AND OFFERS A NEW WAY TO GLIDE.
WITH ITS ORIGINAL, EFFICIENT LOOK, THIS SKATEBOARD,
DÉDIÉ A L'ORIGINE A L'ENTRAÎNEMENT ESTIVAL DES SNOWBOARDERS

ORIGINALLY DEDICATED TO SUMMER TRAINING FOR SNOWBOARDERS, OFFERS NEW SENSATIONS AND NEW PERFORMANCE: PERFECT CONTROL OF ITS TRAJECTORY AND MORE NATURAL MOVEMENTS

FOR A MUCH MORE INTUITIVE RIDE.
Partner sales outlets in France in 2023
Riders Parabolik in France and Europe
Models available in several sizes and variations
BE A FRIEND OF
AMIS DE PARABOLIK 
JUST SEND YOUR NAME AND EMAIL!

As a friend, get immediate access to the best of Parabolik!
You'll never miss a thing as you'll receive a notification every time a new model is launched, and most importantly, you'll get a sneak preview of great deals, exceptional pre-order prices, and invitations to Parabolik events, reserved for friends and fans only!